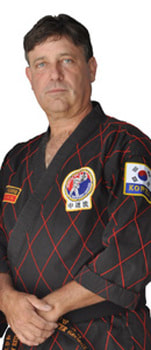 MASTER GEORGE FERRIS


Master George Ferris entered the Martial Arts world in 1971 at the New Orleans Police Academy
where he studied Judo. From 1973-1980 he studied the martial arts under a variety of masters. Then, in 1981, he began studying under Grand Master Young Seok Kim, under whom, in 1984, he earned his 1st Dan Black Belt and began teaching. In 1986, seeing need to further aid the community, he established the Kenner Recreation Martial Arts Program, which survives today. Finally, in 1994, with the attainment of his mastery in the Korean martial arts, he formed the World Martial Arts Southeast Regional Headquarters in Kenner, LA. Today, Master George is a 6th Dan Black Belt in both Taekwondo and Hapkido.
---
---
​

MASTER DANIEL TRUXILLO
Master Daniel started his training in Harahan in 1994 under Tommy Perque. He transfered to Master George in 1997 and earned his first degree at the end of that year. He earned his second degree in 1999 and started teaching for the city of Kenner and WMA that year. In 2008 he earned his third degree black belt. In 2012 he went to San Diego and tested in front of Grand Master Young S. Kim and earned his fourth degree black belt earning the title of Master. Master Daniel is currently still teaching for the city of Kenner and WMA, and working on earning his fifth degree black belt.

---

---






MASTER MATTHEW HINKAMP
Master Matt began training in 2001 through the Kenner Parks and Recreation department under Ms. Paola, Master Daniel, and Mr. Mark. In 2006 he received his 1st Dan Black Belt in Taekwondo and began training under Master George. He also began teaching at the recreation program at this time. In 2016, he competed in the Louisiana State Championship and achieved 1st place in weapons kata. Finally, also in 2016, he traveled to San Diego and tested for his 4th Dan Black Belt in Taekwondo and Hapkido and earned his Master's degree. Matt is currently a Master instructor for the Kenner Recreation department, World Martial Arts school, and Little Dragons Program.




---

---